As an online merchant, you surely want to stay ahead of the curve in the e-commerce world and unlock new potential for your business benefiting from up to 20% more sales by offering the right mix of payment methods. And different types of payment methods help you with it.
Introduction to Online Payment Methods
Payment methods are the various methods used to pay for goods and services. A variety of payment methods have become increasingly important today.
With the rise of e-commerce, companies need to be able to accept payments from customers in different countries and currencies. Payment methods vary significantly across countries and regions, as other countries and regions prefer different payment methods.
There are many different types of payment methods around the world. The most common payment methods include cash, checks, credit cards, debit cards, prepaid cards, e-wallets, mobile payments, bank transfers, and cryptocurrency.
In many countries, conventional debit and credit cards are surprisingly rare, and bank accounts are only available to some. Around the globe, over 500 alternative payment methods can divide into different categories.
For example, one of Latin America's most popular online payment methods generates a voucher that can be paid offline in cash. At the same time, iDEAL (a bank transfer system) is covered by all Dutch banks and is used to complete over 60% of all e-commerce transactions in the Netherlands.
In a series of articles in our blog, we will discuss the payment methods commonly used globally and how they differ across countries.
Types of Global Payment Methods
There are currently over 200 different payment methods available in the world. The key value online payment methods can be divided into several groups.
Cards (credit or debit)
Credit cards are one of the most widely used payment methods globally, as they are accepted in almost every country. They offer convenience, security, and flexibility when it comes to payments.
Debit cards are also widely used and accepted in most countries. They provide the same comfort, safety, and flexibility as credit cards but without the risk of accumulating debt.
Wallets
E-wallets are becoming increasingly popular as they offer a secure and convenient way to make payments. They are trendy in certain regions, such as Asia and Africa, as they allow customers to make payments without entering personal or financial information.
The e-wallet provider processes the payment, and the funds are transferred to the merchant's bank. Key global players include many big names such as PayPal, ApplePay, Google Pay, and WeChat Pay.
Bank Transfer Payment Methods
Bank transfers are also a standard payment method, as they are secure and allow customers to transfer money directly from their bank accounts. Direct online bank transfers are a popular payment method for e-commerce transactions, especially in Europe.
Meanwhile, electronic money transfers are popular in many markets with less established traditional banking systems. In many Latin American markets, a number of popular in-house payment methods allow shoppers to receive a code at checkout, which customers can then pay with cash or bank transfer at participating brick-and-mortar locations.
Buy Now Pay Later (BNPL)
BNPL offers customers to receive goods immediately and pay for them later. The BNPL supplier pays the transaction amount and bears any risk of fraud or non-payment. Buy Now Pay Later payment methods usually result in higher transaction costs and conversion rates.
Buy Now Pay Later methods is extremely popular in most European countries, especially in Germany, Scandinavia, Austria, Switzerland, and the Netherlands.
Differences in Payment Methods Across Countries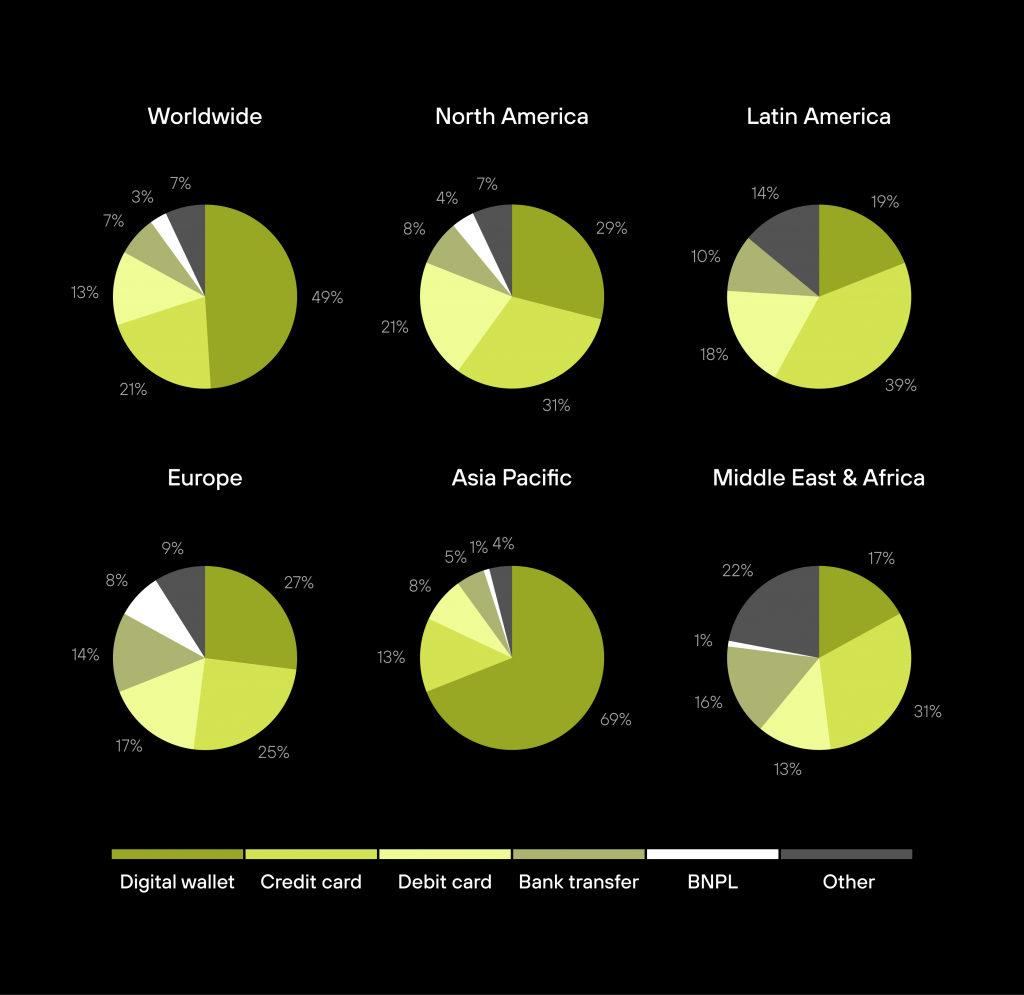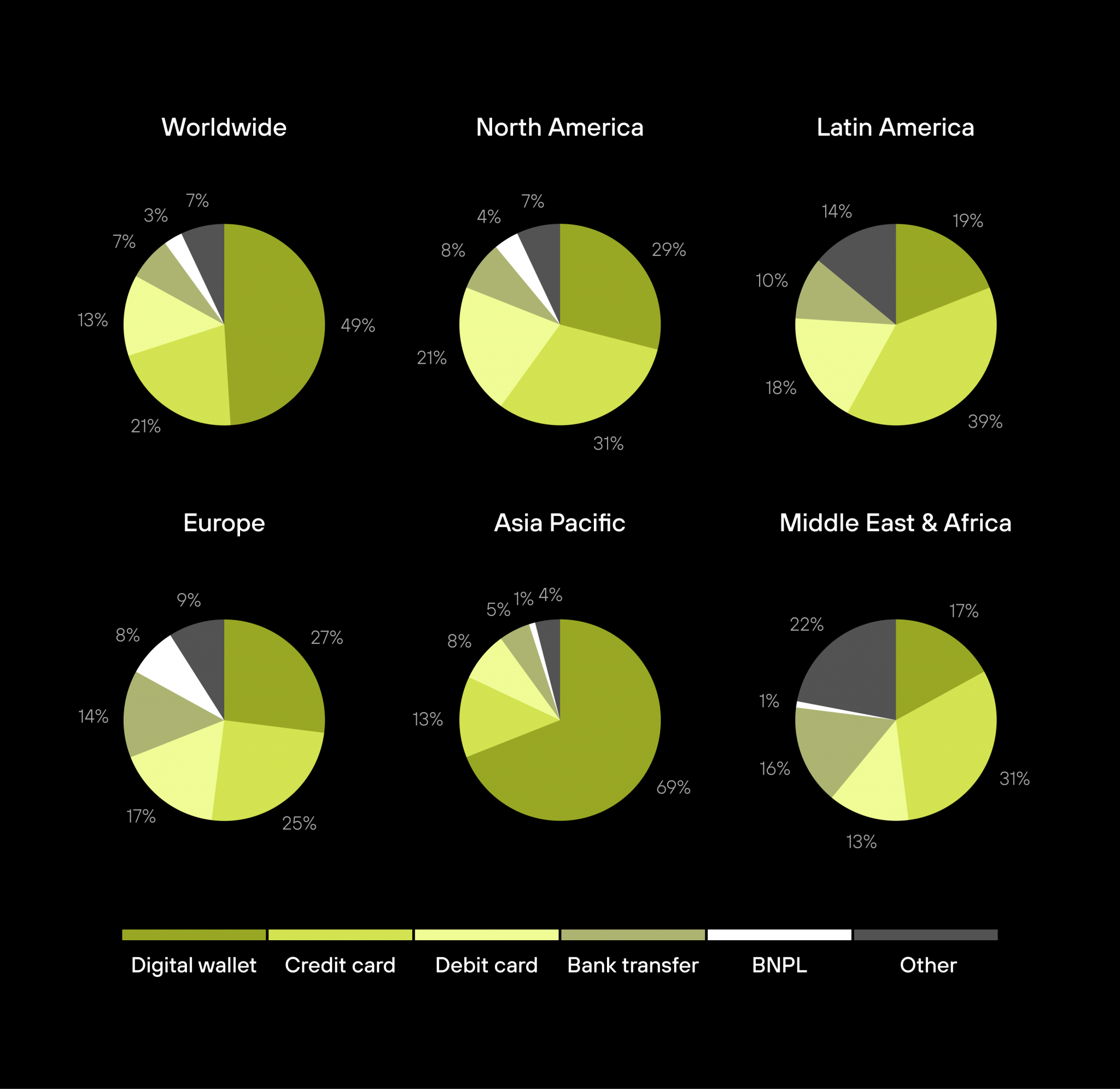 Payment methods vary significantly across countries and regions, as different countries and regions prefer additional payment methods. The most common payment methods are credit cards, debit cards, e-wallets, and bank transfers.
Despite the similarity of payment methods globally, some distinct differences exist across countries. In addition to the differences in payment methods, there are also differences in the types of cards that are accepted across countries.
Which payment methods are best for your business? Read more in our articles or book a call with our Sales manager using the form below.