Over the past three months, our primary focus has been on enhancing your user experience. We're excited to bring you enhanced documentation, expanded payment options, real-time fraud notifications, optimized financial reports, and more. Read this post to the end, and don't miss important notices.
News
Welcome new Solidgate documentation
We're thrilled to announce the launch of our new documentation! This fresh version provides more structured information, step-by-step guides, and an improved API reference. We aim to improve the overall user experience by enhancing the ease and efficiency of finding the information you need.
The new documentation consists of two main sections: the Payment Guide and the API Reference.
The Payment Guide offers comprehensive, step-by-step instructions on using our platform. It covers topics such as setting up an account, making payments, managing transactions, subscriptions, and other essential operations.
The API Reference provides detailed information on our API endpoints and data structures, catering to developers.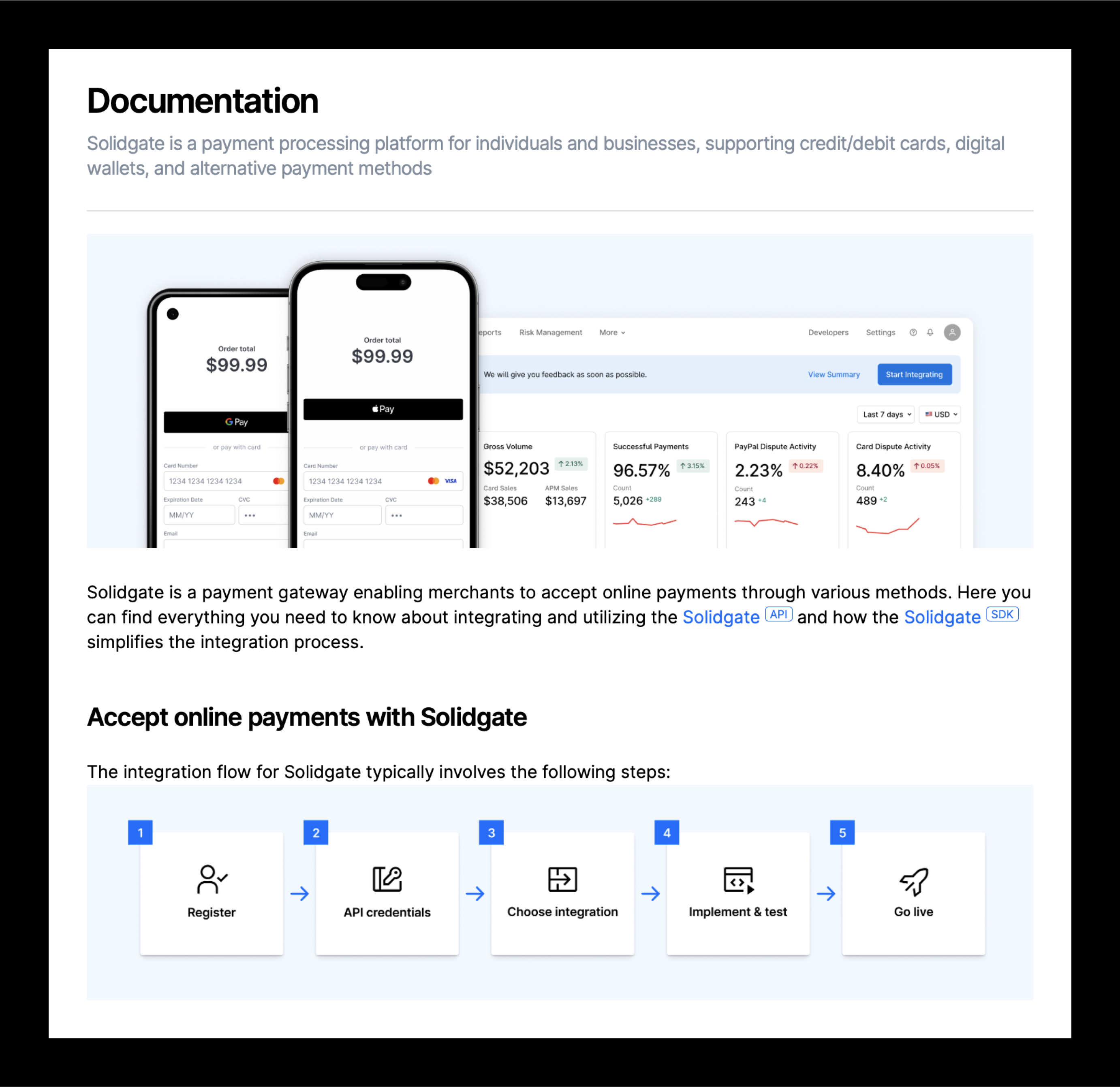 Both sections have been updated and expanded to provide the latest information and best practices. We're confident that the new documentation will be a valuable resource for you. We eagerly await your feedback and suggestions for further improvement.
Connect more APMs on your payment page
Let your customers pay wherever and however they prefer. We have added 5 new alternative payment methods to our payment page, including local Payment Methods in Poland, Germany, and the Netherlands.
You could provide your customers with even more payment options in mere minutes! No integration is required; card, Apple Pay, Google Pay, Przelewy24, Blik, Sofort, Giropay, and iDeal are already available on the Payment Page.
We understand the importance of a seamless payment flow without requiring technical updates. With our Payment Page, customer data is automatically matched, and appropriate payment methods are presented.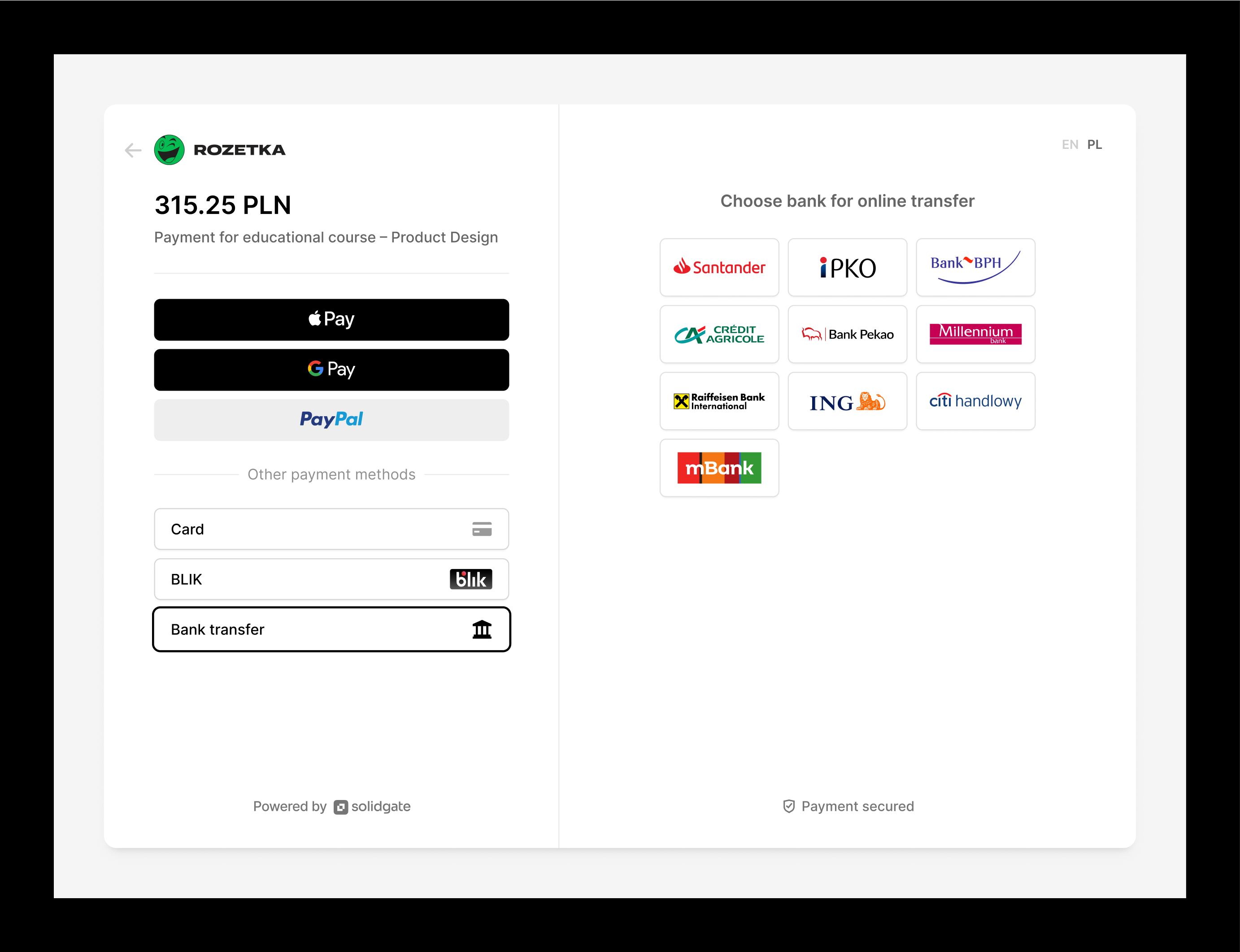 Receive fraud notifications in real time
Previously, we only provided reporting functionality for tracking fraud data (TC-40/SAFE). However, starting March 2023, you can receive Fraud Alert notifications via webhook events, almost in real-time. This lets you track your fraud ratio promptly and take necessary actions to prevent further fraudulent transactions.
To enable this feature, set up an endpoint to receive webhook events via HUB and update your system to process fraud notifications. Find more details in our documentation.
Access your financial entries quicker
The financial entries report is crucial for understanding all money movements, fee types, and more. To maximize its performance, we have rebuilt the report from scratch, reducing downloading time by more than 10 times!
Boost your acquisition by retrying the initial declined transaction
In January 2023, we introduced a beta version of a feature called Token from every initial transaction. This feature allows our merchants to receive a card token even if the payment was declined during checkout. The participants in the beta program utilized these tokens to retry the initial transactions, resulting in a significant uplift in the acquisition funnel.
Starting May 15, 2023, this feature will be rolled out for all our clients. Take advantage of this opportunity by updating your integration to boost your sales.
Notices
New "Foreign Retail Indicator" parameter for Visa
Visa has updated its Marketplace Program and, as of April 2023, has implemented a new incremental Manual Reporting Transaction Fee per transaction.
A 0.10% fee will be added to cross-border transactions without the foreign retail indicator value if your business is registered with Visa as a marketplace. Please contact your account manager to check if you are registered as a marketplace.
We've updated our Solidgate APIs with a new <purchase_country> parameter to comply with the Visa Marketplace Program changes. If you participate in this program, update your integration and provide the retailer's country code value to avoid the specified fees.
The <payment _type> field becomes mandatory for recurring payments
Starting from June 26, 2023, Solidgate will require the payment_type parameter in all recurring payments.
To ensure the highest level of service and conversion on recurring payments, we kindly ask you to always include the correct value in the <payment_type> parameter based on the type of transaction you initiate (e.g., 1-click, recurring, installment, rebill, retry).
After June 26, 2023, we will decline all recurring payments that do not comply with the specified rule.