During August, from the launch of our customizable Payment Page Demo to the new decline code, we've been hard at work to empower your business with cutting-edge payment solutions. We've also resolved issues, improved speed, and simplified processes to improve your Solidgate experience. Let's dive in!
New Features
Payment Page Demo
Payment Page is a low-code integration solution for creating customizable payment pages, supporting one-time and subscription payments with coverage across 9+ payment methods. Redirect customers to your Solidgate-powered Payment Page for simple purchases and subscriptions and enjoy the benefits:
Branding customization
One-time & subscription payments
Coupons functionality
PCI compliance
Customer info collection
Displaying Merchant Terms & Conditions
Optimized for best conversion
International language support
Card payments
Przelewy24, Blik, Sofort, Giropay, iDeal
100+ currencies
To take it for a spin, check our brand-new demo and set up your personal Payment Page now!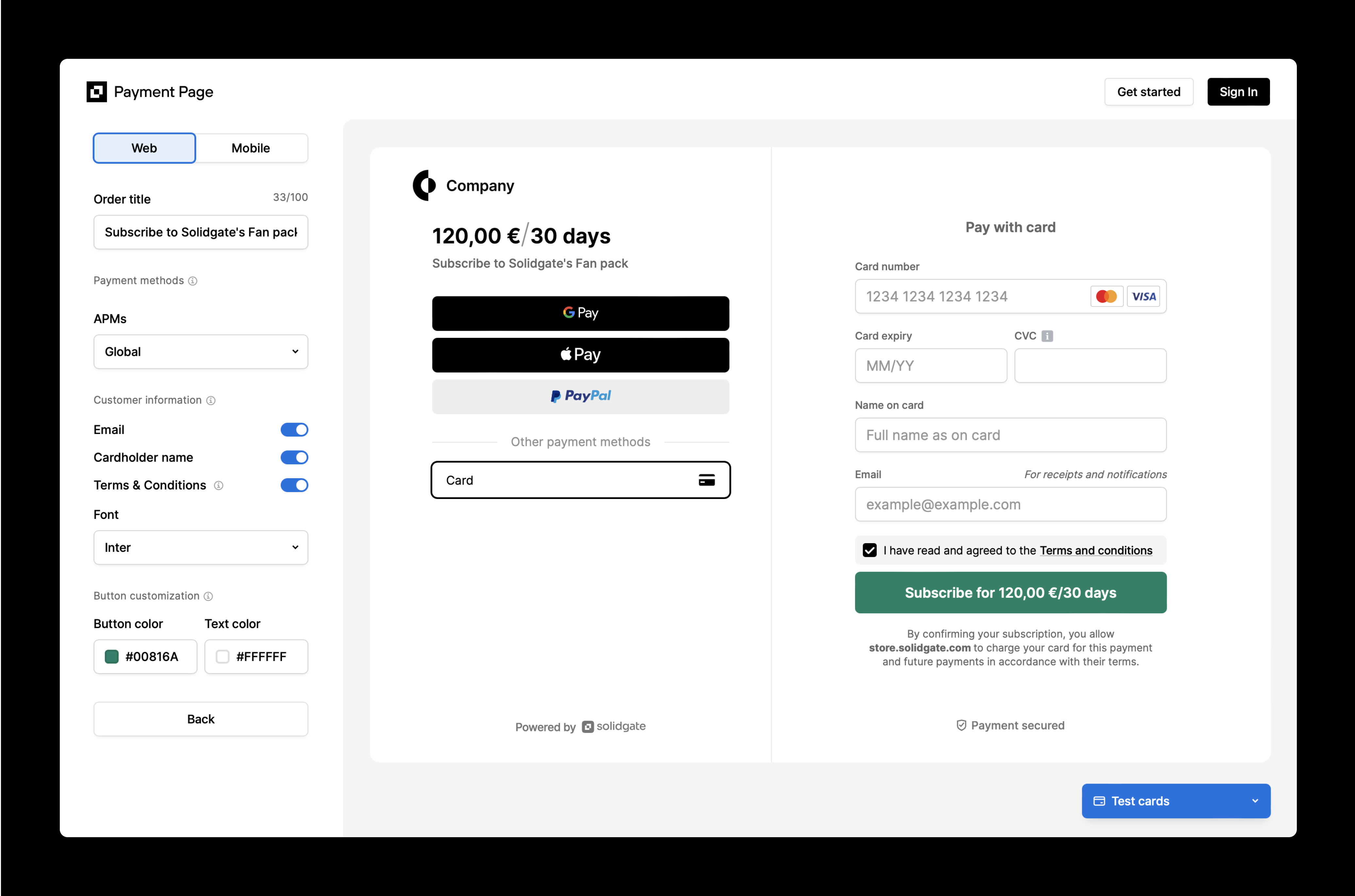 New transaction decline code
Introducing the new 3.12 Closed User Account error code. This code indicates that the customer has blocked the transaction via their card for reasons that need clarification. If the customer did not initiate this action, they should contact their card issuer for more information. See documentation to learn more.
Updates
Payment Form speed enhancement
We've made significant improvements to our Payment Form loading speed. Your payments will now be processed 2x faster, and Apple and Google Pay buttons will load almost immediately, reducing the display time by 3 seconds.
Easier Apple Pay acceptance
We've simplified Apple Pay acceptance. You no longer need to pass the apple_pay_merchant_domain parameter. Just verify your domain, and you're ready to display the Apple Pay button on your Payment Form with the option to hide it if necessary.
Chargeback webhook fixes
We've resolved an issue where some users received conflicting flow types for a single chargeback in accepted status through the chargeback webhook. Now, the chargeback webhook provides a clear picture, always displaying the actual chargeback type and status, ensuring smoother dispute resolution.
New Visa interchange fees
Effective Oct 1, 2023, Visa is instituting an interchange fee increase of 2.5bps (0.025%) on eCommerce transactions within Europe that are not sent via the following methods:
With a Visa network token (aka EMV Payment Token)
Using a 3D Secure authentication (Visa Secure)
Apple Pay or Google Pay
All transactions within Europe based on the Primary Account Number (PAN or FPAN) of a Visa card will now incur an additional 2.5bps interchange fee. This may represent a significant cost for clients accepting or facilitating payments in Europe. Contact your dedicated account manager to learn how to avoid it with Solidgate VTS/MDS tokens.