Discover June's advancements in Solidgate. From the highly anticipated Stripe integration and enhanced fraud rate control with Fraud Reports to the new Prevented alert type and flexible Subscription Pause feature, we're empowering you with seamless payments, comprehensive fraud protection, and enhanced subscription management capabilities.
New Features
Welcome new payment provider – Stripe
We're thrilled to announce the release of our much-anticipated Stripe integration! This powerful tool expands our provider portfolio, offering both basic Stripe card payment features and Digital Secure Remote Payment functionality.
DSRP is compatible with Apple Pay and Google Pay, so your users can now enjoy seamless checkout experiences using their preferred mobile wallets. This integration adds yet another layer of convenience and security to our platform.
Achieve fraud rate precision with reports
Introducing Fraud Reports, a significant enhancement to our fraud rate control capabilities. In addition to the existing Fraud Notifications list, Fraud Reports empower you to analyze all your fraud-related data in one place. Track changes in your Fraud Rate over the past six months and align better with banks and MPS limits. Stay within the acceptable range of 0.9% with ease. Learn more here.
Get a full picture with a new alert type
Discover a new alert type called Prevented in Solidgate HUB. The Prevented alert signifies a successful outcome for Order Insight, Compelling Evidence 3.0, and Consumer Clarity inquiry alerts.
The Prevented alert type indicates that you've deflected a fraud dispute, so the transaction amount remains unrefunded. Gain deeper insights into your chargeback management operations and boost your ability to track fraudulent activities.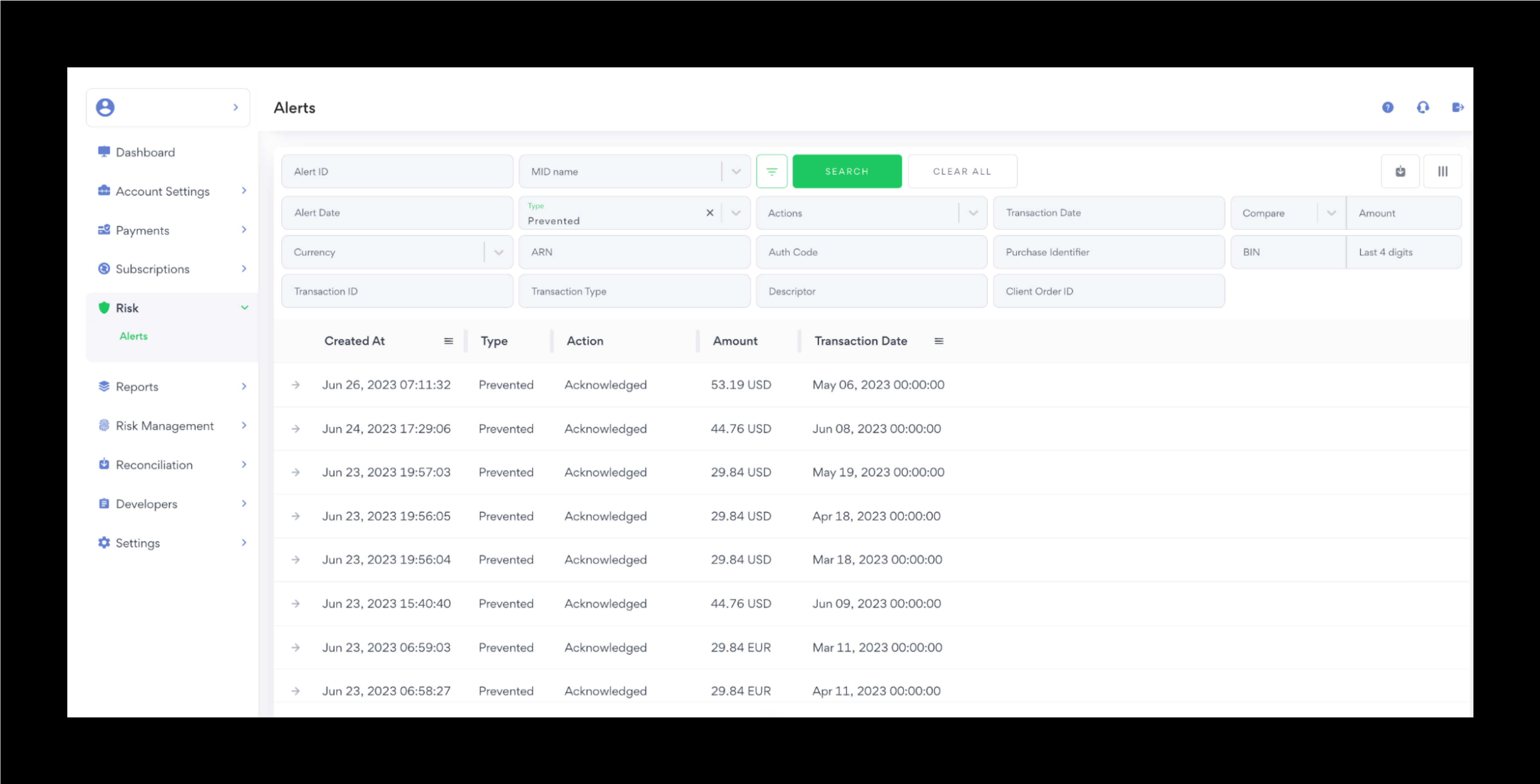 Enjoy extra flexibility with Subscription Pause
Enhance your subscription management capabilities with the new Subscription Pause feature. This feature lets your customers temporarily suspend their subscriptions instead of canceling them completely. Use our powerful API to seamlessly create, edit, update, and delete subscription pauses within your existing systems and workflows. Read the guide here.
Updates
Improved subscription order webhooks
Exciting news! Our subscription order webhooks have undergone enhancements. Now, the metadata you provide during the initial subscription payment will automatically be transferred to all subsequent charges. You'll receive this metadata in the webhooks for each charge, making tracking and processing essential subscription-related information easier. Check the example here.